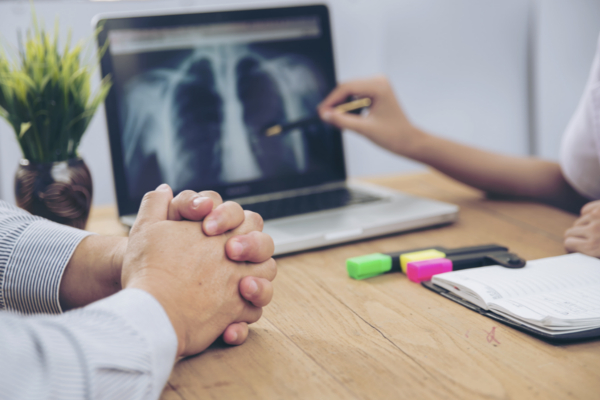 In the United States, lung cancer is the second most common form and the leading cause of cancer-related deaths in men and women. As with most types of cancer, the earlier lung cancer is detected, the quicker treatment can start before it spreads.
Unfortunately, lung cancer often goes undetected until it reaches an advanced stage or its symptoms mimic those of long-term smoking or an infection. In turn, at-risk individuals may dismiss these signs and delay treatment until it's too late.
On the other hand, lung cancer treatments can be invasive and testing done with a low-dose computed tomography (CT) scan exposes patients to a small amount of radiation, which comes with its own risks.
As such, while lung cancer screenings are a preventative measure, they are only recommended for certain individuals.
About Lung Cancer Screenings
Currently, the only recommended method for lung cancer screenings is a low-dose CT scan (LDCT). During this procedure, the patient lies on a table and an X-ray scanner captures images of the lungs. The procedure takes only a few minutes, provides a greater level of detail and saves more lives than traditional X-ray technology.
Research supports this technology: The American Cancer Society examined multiple studies involving LDCT for diagnostic purposes. Among them was the National Lung Screening Trial (NLST), which involved 50,000 individuals between the ages of 55 and 74 with a minimum smoking history of 30 pack-years. This was calculated by multiplying the number of years smoking by the number of packs smoked per day.
Data indicated that individuals screened with LDCT had a 20-percent lower chance of dying from lung cancer, compared to individuals who were screened with traditional technology.
Yet, because LDCT involves a degree of radiation, the process is not recommended for all individuals. These screenings are ideal for individuals with an elevated lung cancer risk.
Who Benefits from Low Dose CT Lung Screening?
In general, individuals with a lengthy history of smoking can benefit most from a lung cancer screening. The US Preventive Services Task Force recommends LDCT screenings for those ages 50 to 80 who have a 20 pack-year smoking history and currently smoke or have quit within the past 15 years. The American Cancer Society recommends:
Doctors discuss the benefits and risks of an LDCT screening beforehand
Current smokers be receiving counseling to quit
Aside from these requirements, LDCT screenings are recommended for individuals:
With a history of lung cancer, including treatment over the past five years
Who have a family history of lung cancer
Living with chronic obstructive pulmonary disease (COPD)
Who have been exposed to asbestos on the job
In addition to these requirements and recommendations, individuals who have one or more of the following conditions may be at a higher risk for lung cancer. Particularly, individuals in poor health or who may experience complications from the scan or follow-up tests. This group includes those who:
Has or develops a health problem that makes him or her unwilling or unable to have surgery if lung cancer is found
Have experienced extreme, unexplained weight loss over the past year
Are coughing up blood
Have undergone an LDCT scan over the past year
Issues with Lung Cancer Screenings
Although LDCT technology produces a more detailed picture than traditional X-ray, certain issues may arise:
Imaging may result in a false positive, indicating a patient has lung cancer when another condition is present. Patients may then undergo unnecessary follow-up scans or surgeries. Specifically, after non-cancerous abnormalities are discovered, a patient may undergo a biopsy or have a portion of their lung removed.
Not every case of lung cancer spreads. A patient living with the condition for years may undergo a surgical procedure that results in complications.
Repeat radiation increases a patient's risk of developing cancer.
Has your doctor recommended an LDCT scan to screen for lung cancer? Contact Midstate Radiology Associates to make an appointment today.