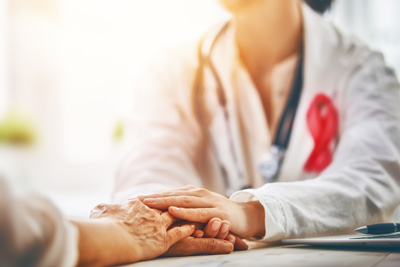 Midstate Radiology Associates, LLC is one of the first radiology providers in the United States to offer a point of care high-risk screening program within Women's Imaging at all our locations. This program includes genetic testing for patients that may be at an elevated risk of developing cancer.
When you choose Midstate Radiology Associates for your annual mammogram exam, we will evaluate your individual risk factors. If we find that you have an increased risk of developing breast cancer, you'll receive individualized screening recommendations.
How Do We Identify Cancer Risk?
Every patient is unique; so is their risk for cancer. We identify candidates with a questionnaire based on National Comprehensive Cancer Network (NCCN) guidelines. If determined to be at-risk, patients will be offered education with a certified genetic counselor through our tele-genetics program.
This discussion will inform the patient on the different ways cancer develops (genetic, familial and sporadic), the value of screening and early detection and other relevant information. If appropriate, patients will be offered additional diagnostic testing. This test is simple, non-invasive and can be performed at our centers at no charge to the patient.

Designed to assess a patient's lifetime risk of developing breast cancer, our high-risk screening program enables us to recommend individualized screening plans for patients based on risk factors as well as personal and family health history.
Our program will be managed by our Director of Screening and Preventative Services, Meghan Burgess, MSN, NP-C, AOCNP. She will work collaboratively with your doctor in order to ensure that you receive appropriate care tailored to your personal risk for certain cancers.
Meghan has over 10 years of experience in caring for and treating breast cancer patients in her role as an advanced practice registered nurse as well as creating, implementing and running high risk screening programs.
Benefits of Screening & Preventative Services
Blends genetic testing status AND personal/family cancer history into clinically actionable risk assessment and follow-up.
Provides specific medical management recommendations for patients who test genetically positive or negative based on the guidelines of leading professional medical societies.
Provides a test report that is simple, clear and easy to use.
Clear and Actionable Direction.
The report provides recommendations for managing patients with either positive or negative genetic results.
A personalized cancer risk and management guide based on professional medical society guidelines.
Who Should Use Our Screening & Preventative Services?
Blending both genetic test status and personal cancer family history, we offer all Mammography patients the next generation of hereditary cancer risk testing. We use Myriad myRisk, which identifies elevated risk for 8 important cancers by analyzing multiple, clinically significant genes. Additionally, Myriad myRisk provides a summary of medical society guidelines to help optimize medical management.
Why Midstate Radiology Associates?
Knowing your risk is the first step toward early detection. Our high-risk screening program can provide the answers you're looking for. Be sure to ask about the program when you schedule your next annual mammogram exam at any Midstate Radiology Associates location.
Our goal is to empower, educate, and provide support to you and your doctor by providing the most current, cutting-edge diagnostic testing available. Please feel free to contact Meghan to coordinate an in-person visit at 203.694.8879 or by email at meghan.burgess@hhchealth.org. If you have any further questions about this latest enhancement to our program we encourage you to reach out to us so that we can ensure your questions are answered.