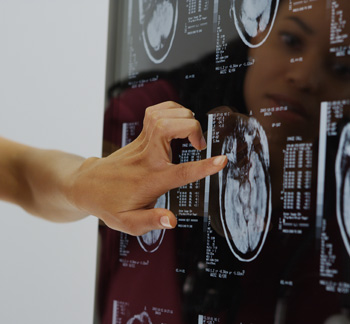 Neuroradiologists specialize in the diagnostic imaging of the human brain and nervous system. To accurately diagnose and treat their patients, our physicians may perform CT scans, MRIs and X-rays to identify any medical disorders. Some health complications and diseases diagnosed by our neuroradiologists can be treated with minimally invasive procedures.
What Do Neuroradiologists Treat?
People at risk for certain health complications can work with a neuroradiologist to assess the brain, neck, spine, central and peripheral nervous system and head for the following and more:
Stroke risk
Brain disorders (i.e. aneurysms)
Cognitive impairment
Spinal cord diseases
Tumor detection
Neck abnormalities
Sensory disorders
Our team of radiologists provide these services and more within Neuroradiology:
When testing for Alzheimer's disease or another form of dementia, our trained neuroradiologists will evaluate your brain movements to determine if abnormalities are present.
For cases of memory loss and impaired judgment, we use NeuroQuant®. This software is used with MRI to facilitate diagnosis, monitor progression of Alzheimer's disease and assess the effectiveness of treatment. NeuroQuant® provides age-related brain atrophy reports and compares them to those without the disease.
Advantages of Choosing Midstate Radiology Associates
At Midstate Radiology, we believe early detection can be the key to successful treatment and, in some cases, eradication of a health issue. Neuroradiologists have received years of specialized training beyond medical school to ensure expert interpretation of medical imaging.
Our doctors are knowledgeable, skilled in the latest cutting-edge technologies and very friendly to patients. You will feel comfortable at our imaging centers and can be confident that care is of the highest quality. We pride ourselves on providing precise results, so you receive a correct diagnosis after the first visit.

Are you seeking premier neuroradiologic services in Connecticut, provided by a reliable medical staff? Contact us to make an appointment today.