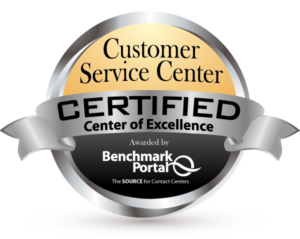 Midstate Radiology Associates, LLC is proud to announce they have been certified as a Center of Excellence by BenchmarkPortal. The Center of Excellence recognition is one of the most prestigious awards in the customer service and support industry.
Tom Cappas, MBA, MS RT (R) (MR) – Director of Operations, Midstate Radiology Associates, LLC says, "Everything for us starts with improving access to care and building the very best Radiology experience possible today. We made this commitment several years ago, and by building our State of the Art Access Center and bringing on the very best customer focused agents, it fully demonstrates that commitment. This recognition by BenchmarkPortal is the remuneration of our team's hard work and belief that our customers deserve the best."
Contact centers achieve the Center of Excellence distinction based on best-practice metrics drawn from the world's largest database of objective and quantitative data that is audited and validated by researchers from BenchmarkPortal.
We are honored to be recognized as a Center of Excellence by BenchmarkPortal. This achievement reaffirms our commitment to be "The nation's most customer-focused Radiology Organization". That pledge extends to every agent during every interaction. BenchmarkPortal's expansive database certified that our objective and metrics are aligned with the highest level of effectiveness and efficiency in our call center.
–Donald Claing, MBA, CCCM, CPM, CMQ/OE – Access Center Manager
BenchmarkPortal awards the "Center of Excellence" designation to customer service contact centers that rank in the top ten percent of the contact centers surveyed. They are judged against a Balanced Scorecard of metrics for efficiency and effectiveness. Those contact centers that demonstrate superior performance on both cost-related metrics and quality-related metrics compared with their industry peers earn the award.
"The certification of Midstate Radiology Associates, LLC is a direct result of its leadership's commitment to balancing cost-effective service solutions with best-in-class service performance. It is an achievement of distinction," says Bruce Belfiore, CEO, BenchmarkPortal.
About Midstate Radiology Associates, LLC
Founded in 1955, Midstate Radiology Associates, LLC has grown into a leading and well-established medical imaging practice in Connecticut. Nationally recognized for leadership, patient experience and effective management practices, Midstate Radiology Associates, LLC offers the latest imaging technologies and affordable imaging services available. For more information, call 203-694-8405.
About Center of Excellence Certification
Contact centers and their managers who wish to implement best practices and attain world-class performance in their industry have a unique opportunity to certify their contact centers.
BenchmarkPortal's rigorous certification process has the advantage of referencing all performance goals to their best practices database of thousands of contact centers. Thus, contact centers will be held to performance levels that will improve their competitive position, not just force them to adhere to an arbitrary standard. Discover what the steps to certification are and how they will improve your center's performance.
About BenchmarkPortal
From its origins in 1995, BenchmarkPortal has become a global leader in the contact center industry, providing benchmarking, certification, training, consulting and industry reports. The BenchmarkPortal team of professionals has gained international recognition for its innovative approach to best practices for the contact center industry.
BenchmarkPortal hosts the world's largest database of contact center metrics, which is constantly being refreshed with new data. BenchmarkPortal's mission is to provide contact center managers with the tools and information that will help them optimize their efficiency and effectiveness in their customer communications. For more information on BenchmarkPortal, call 1-800-214-8929 or visit www.BenchmarkPortal.com.