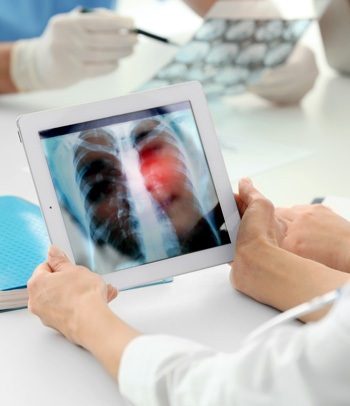 Oncologic/body radiologists provide interpretive services for the chest, abdomen and pelvis. These medical professionals use CT scans, ultrasounds, X-rays and MRIs to examine the body. Such techniques help identify injuries, medical diseases and other abnormal conditions present in these areas. This also includes the surrounding organs and tissues.
Who Should Seek Oncologic/Body Imaging?
Through this broad subspecialty of radiology, our physicians can evaluate, diagnosis and treat a range of medical problems in the human body. Some common conditions include:
Heart, liver, kidney and pancreatic disorders
Tumors in the abdominal or chest region
Lung cancer
Bone diseases
Lymph node and blood vessel disorders
Oncologic/body radiologists are highly trained specialists who not only diagnose, but treat different forms of cancer using the most innovative imaging technology. Our team offers the following services and more within Oncologic/Body Imaging:
When cancerous conditions are discovered, we can use radiofrequency or microwave ablation to destroy cancer cells. The physician inserts a thin needle through the skin and into the tumor, guided by computed tomography (CT). Electrical energy delivered through this needle heats and destroys the tumor, which prevents cancer cells from dividing and multiplying.
Months after the procedure, those dead cells turn into a harmless scar.
For lung cancer specifically, we offer a screening program to qualifying patients. The participants must meet the following criteria:
Be a former (within the last 15 years) or current smoker
Be between the ages of 50 and 80 and healthy enough to undergo treatment
Have a 20 pack-year smoking history
Have no history of lung cancer
Be asymptomatic
Midstate Radiology Associates for Oncologic/Body Imaging
The sooner you come to see us, the sooner we can accurately diagnose a potential health problem and begin treatment. When you choose Midstate Radiology Associates, you receive high-quality care from skilled, board-certified radiologists with extensive medical expertise and experience. Our doctors can interpret scans, are trained in the latest technology and make patients feel comfortable during the appointment. Across our network of diagnostic imaging centers, you can expect precise results the first time.

Looking for comprehensive oncologic/body imaging services in Connecticut from knowledgeable radiologists? Contact us to make an appointment today.