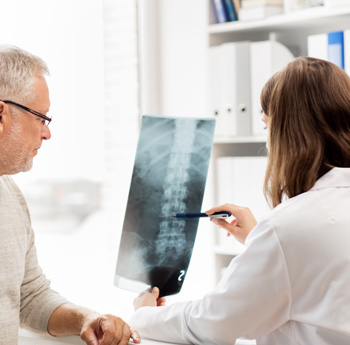 Interventional Radiologists are subspecialist physicians that perform image-guided diagnostic and therapeutic procedures for a broad range of services for patients with vascular conditions, cancer, pain, diabetes, hepatic, renal and other conditions. Our board-certified physicians specialize in minimally-invasive treatments using imaging guidance. These procedures have less risk, less pain and less recovery time compared to open surgery.
Our interventional radiologists are constantly bringing new, cutting-edge procedures and technologies to our patients. Our interventional radiologists perform innovative treatments such as tumor ablation, stent placements and targeted chemotherapy, using state-of-the-art techniques in a variety of imaging modalities.
Benefits of Interventional Radiology
Unlike open surgery, the techniques implemented by interventional radiologists are proven to minimize risk, reduce pain and progress recovery. It may also be a safe option for patients who are unfit to undergo surgery. The precision of image-guided technology prevents damage to the surrounding tissue.
Using pioneering technology, our specialists are able to accurately diagnose their patients the first time. Local anesthesia is used in some instances, so hospital stays are short – if even necessary.
Who Should See an Interventional Radiologist?
Our diagnostic and therapeutic medical treatments use the following technologies and more to treat and diagnose various diseases.
Patients with the following health concerns can greatly benefit from the services provided by our skilled interventional radiologists:
Aneurysms and other pulmonary diseases
Gallstones and other gastrointestinal conditions
Cancerous tumors
Central nervous system disorders
Musculoskeletal pain
Varicose veins
Vascular diseases
Why Midstate Radiology Associates?
Our board-certified interventional radiologists employ minimally-invasive tools and techniques to treat and diagnose disease. As a result, patients benefit significantly from less trauma, recovery time and cost than conventional surgery.
Our extremely talented interventional radiologists maintain close relationships in collaboration with referring physicians. This includes consultation before and after procedures, which include a post-treatment care plan.

For innovative interventional care in Connecticut, contact us today to make an appointment.