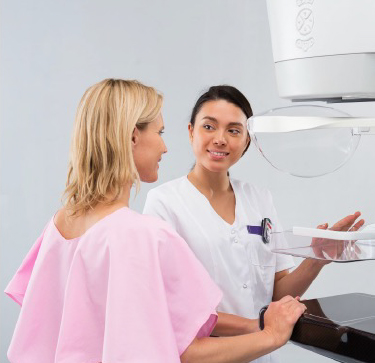 Peace of mind with a fast, accurate scan
One in eight women will be diagnosed with breast cancer in her lifetime. To help our patients get answers quickly, we've added the latest breast cancer diagnosis technology to our clinic. Midstate Radiology Associates is the first provider in Connecticut to offer SenoBright™ HD Contrast-Enhanced Spectral Mammography by GE Healthcare.
Contrast-enhanced spectral mammography (CESM) uses a contrast medium to highlight blood vessels in the breast. CESM can produce a better image than mammography or ultrasound to spot potential cancers, particularly for women with dense breasts.
Don't waste another minute when it comes to accurate breast cancer diagnosis
Don't you deserve the best?
CESM technology is recommended for several reasons, including:
Higher quality images in women with dense breasts
Evaluation of abnormalities found on screening mammography or ultrasound
Supporting the evaluation of the extent of breast cancer
Excellent alternative to MRI
7 minutes? That's how long it takes to get a more accurate image of your breasts, even dense breasts, thanks to our new technology!
SenoBright™ HD CESM has several advantages, such as:
High sensitivity, which increases the ability to identify disease more correctly
High specificity, the ability to identify those without the disease
The exam can be completed in close to 7 minutes to provide a clear and confident diagnosis
The exam can be conducted in the same clinic, with the same equipment and the same team
With this new breast cancer technology at Midstate Radiology Associates, there are more options for personalized patient care.
Contact us to learn more about SenoBright™ HD CESM.